Important webs & topics for Main web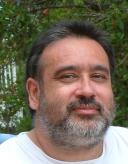 About Me
I am Colas Nahaboo, and I share here my interests in Computers, Software, Unix, Programming, Science, Usability, Surfing, and Cats.
Disclaimer
This site is a totally non-profit personal site, and whatever you find here represents my own opinions, not necessarily any of my employers, friends, familly, or cats. Especially my cats.
Copyright
Let's share! If not stated otherwise, all this site contents are licensed under the
Creative Commons
license, and
GPL
for the software.
All topics on this site
Warning: Can't find topic Home.SiteRecentChanges